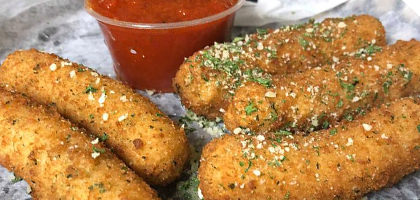 Everyday Dublin Pub's Famous Daily Specials, Happy Hour Deals, and Late Night Appetizer Specials. Your Go-to Spot for Good Times.
The Dublin Pub offers you the area's best specials. You and your friends can sit back and relax with some refreshing drinks from our full-service bar. The friendly service and inviting atmosphere will make you feel right at home every time you stop by.
There's something special every day!
Monday – Thursday
4:30pm – 7:30pm
Happy Hour Menu
$2 Pints- Coors Light, Miller Lite, or PBR
$2 Well Drinks
$4.50 House Wines
Joes' Chili or Chips & Salsa or Hot Dog- $2.97
Dublin Pretzels w/ your choice of Cheese Sauce- $8.97
1 LB of Wings – $8.97
(plain, hot, BBQ, honey mustard, spicy honey citrus, sweet breaded bacon)
The Mix Cheeseburger – $4.97
(4oz angus burger, cheddar cheese, pickles & onion ring)
There's something special, every day!
Sunday
3 piece fried chicken with mashed potatoes and gravy plus green beans $10.95
Add soup or salad $2.00
Monday & Tuesday
1/2 Off any 1 topping pizza
Wednesday
Kids eat free with the purchase of an adult entree! (Dine In Only)
Thursday
Shepherd's Pie $10.95
Add soup or salad $2.00
Friday
3 Piece Walleye with Rye Bread $10.95
Add soup or salad $2.00
Saturday
Spaghetti with Garlic Bread $9.95
Add soup or salad $2.00
---
Late Night Menu
Late Night Section One
Fried Pickles – $7.95
Chips & Salsa – $5.95
Pizza Bread – $6.95
Onion Rings – $7.95
Cheese Fries – $6.95
Cheese Garlic Bread – $5.95
Late Night Section Two
Irish Beer Battered Mushrooms – $8.95
Potato Skins – $8.95
8 Crispy Chicken Ravioli – $8.95
8 Toasted Beef Ravioli – $8.95
Corn Jalapeno Nuggets – $8.95
Late Night Section Three
Cheese Curds – $10.95
Fiesta Poppers – $10.95
Irish Chicken Pot Stickers – $10.95
Queso Dip – $10.95
Dublin Nacho – $10.95
Breaded Spicy Shrimp – $10.95
Pretzels & Cheese Sauce – $10.95
Spinach & Artichoke Dip – $10.95
Dublin Pub Combo Platter – $14.95
Cheese curds, 4 toasted ravioli, 3 potato skins, and onion rings served with sour cream, ranch, and marinara sauce
Late Night Pony Shoes
Grilled Chicken • Breaded Chicken • Buffalo Chicken • Breaded Pork Tenderloin • Walleye • Bacon • Sweet Breaded Bacon
*WHITE CHEESE ONLY*
Wings & Fingers
Dublin Wings (1 lb.) – $11.95
Dublin Fingers (6) – $7.95
Dublin Bites (1 lb.) – $10.95
Joe's Cheese Pizza
9″ – $8.95
14″ – $14.95
Additional toppings – $1.95 each